It is rare to find a company that has enough research behind their product that they can offer a money-back guarantee if it does not perform. Depending on the supplement you are taking, it's not always an easy task to discover if you're getting the full benefit from what you're taking.  With Vitamins like D, you can do a blood test, but when your goal is to raise your antioxidant levels, testing how well  you're doing can be costly.
What Depletes Antioxidants Stored in our Body?
Many things contribute to the depletion of antioxidants in our bodies...stress, smoking, lack of good digestion, too much exercise, infection, etc.
Vitamin C fights free radicals in body tissues and blood plasma, while vitamin E protects fat-rich molecules, such as LDL and HDL cholesterol, and fat cells from oxidation. This effort to protect the body results in the depletion of vitamin C and E in body stores.
Our bodies store antioxidants for use when we need them.  If we are not storing enough, we are less likely able to fight off inflammatory diseases like diabetes, heart disease and cancer.
Eating a balanced diet with 5 to 10 servings of fruits and vegetables every day to obtain maximum levels of dietary antioxidants is recommended, but not always achievable.
To boost your vitamin E levels, include whole grains, nuts and seeds, egg yolks and vitamin E- fortified foods in your diet. Consult your doctor about vitamin supplementation.
Choosing an Antioxidant Supplement
Choosing an antioxidant supplement to support your immune system is not a simple matter.  You want to make sure the manufacturer uses pure ingredients from a trusted source, organic when possible, has both their own and third-party research behind the formulas, and is reputable.
There are a handful of companies that meet these criteria, but only one I know of that also offers a money back guarantee.
Lifepak Nano is a proprietary innovation in anti-aging protection with advanced bio-availability and maximum benefits. It is manufactured by NuSkin / Pharmanex, one of the leading anti-aging research companies.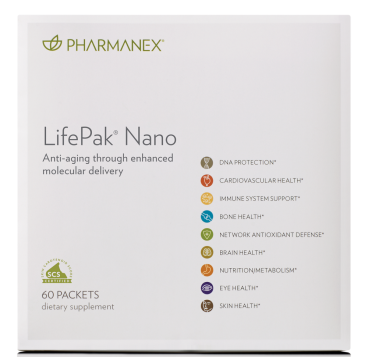 I recently attended a seminar where their lead scientist was speaking, and I was impressed by the research and with the person. I asked the him a few questions I had about ingredients in another of their nutritional products, and found him to be sincere and to the point.
Lifepak Nano is their star supplement, which exhibits rather awesome results.  A number of their customers were in attendance, and the testimonials were notable. A doctor who is part of Integrative Oncology at Alta Bates Hospital in Berkeley was there, and said she puts her cancer patients on the supplements right away, and has noted that they weather treatment better than other patients.  She said they have higher energy, and less severe side effects.
I know that is true from my own experience.  Without the supplements I was taking throughout the year, I am sure I would not have been as healthy as I was through Chemo and Radiation.  My skin barely suffered from the latter, although I did peel.
Getting Your Antioxidant Level Assessed
In another post I mentioned that my family and I got tested our antioxidant levels tested with Nuskin's patented BioPhotonic scanner a few weeks ago (as seen on Dr. Oz).  Well, I started my son on their Teen version, and J and my daughter are taking the Lifepak Nano. J can feel a difference taking two packs daily, and as a person who doesn't go to doctors and refuses to take any meds of any kind, that's really saying something.
If you are considering taking a comprehensive Vitamin/Mineral/Flavonoid/Carotenoid supplement, please consider this product.
Here is What I Suggest:
1) Contact me to find out if there is a NuSkin distributor near you where you can get your Antioxidant level checked (usually $5 - $20). You may find that you are doing well with diet alone, and don't have to worry about antioxidants.  In that case a good Vitamin and or Fish Oil supplement may be sufficient (they have several).
2) For access to the NuSkin wholesale pricing, send me a note and I'll give you an ID to log into their preferred customer website. You can browse their site, read about the research and science they are involved in, and place an order; or you can have me walk you through it.
3) If you do the first two things, in 4 - 6 weeks get a second reading of your Antioxidant level, and if you haven't improved notably, the company will refund your investment!
Below are the Benefits of  LifePak Nano per NuSkin's site:
Nourishes and protects cells, tissues, and organs in the body with the specific purpose to guard against the ravages of aging each day of your lifespan*
Superior bio-availability with CR-6 LipoNutrients™ enhances uptake from the gut into the bloodstream and body for maximum anti-aging benefits*
Advanced anti-aging formula helps protect the body with key nutrients such as NanoCoQ10™ and nano carotenoids*
Helps maintain normal inflammatory responses in the body*
Feeds and helps protect the brain with DHA and EPA*
Offers superior DNA protection against damaging free radical attacks by providing the body with important antioxidants and phytonutrients such as alpha-lipoic acid and catechins*
Protects cell health with an antioxidant defense network*
Helps protect cardiovascular health with a comprehensive blend of omega-3 fatty acids and other nutrients
Provides comprehensive bone nutrition support*
Promotes healthy immune function*
Supports normal blood sugar metabolism*
Corrects nutritional deficiencies*
 Feel free to contact me with any questions.
~ Be Well! ♥